This guide will cover the mechanism of several Critical Strike/ Bash items and/or skills stacking on the same hero/unit. This isn't something that applies specially to Notd: Am, but I will include weapons and skills of Notd: Am in the second part of this guide, so it is not really a general guide. At the bottom of the guide is a key, in case you have trouble understanding shortcuts.
Interference of 2+ items/skills on the same character with crit/bash trait
First of all, items or skills with those traits don't stack up to create more powerful crits/bashes. When a character (or a unit) with such items or skills attacks, each bash/crit chance is checked simultaneously. If several crits/bashes occur at the same time the one picked/chosen the LAST , will trigger. According to this mechanism it is advised to choose/pick the most powerful crit/bash the latest ( before that the 2nd powerful crit/bash and so on ), to maximize efficiency. Once you take a level able crit/bash skill it counts as taken, regardless if you level it further up or not. Moving items in inventory does not affect their trigger ranking.
Ranged bashes add their damage to the normal physical damage of the hero, which will be reduced armour value, but the stun will be blocked by spellimmune units.
Usually Critical Strikes are physical damage, but they don't work versus magicimmune units in this map (don't ask me why).
If you want more information about this, follow this link:
http://www.4dota.ro/index.php?option=com_content&view=article&id=90&Itemid=16
Notd: Am specific knowledge
In reference to Notd: Am it is advised first to find items that offer crit/stun and then maximize the Critical Strike skill of a character, since the skill offers a much higher damage output when levelled up. I would not start levelling crit before the Hades wave, because Hades can steal one of your crit/bash items and then it is all messed up. In the following a list of all items/skills that offer critical strike or bash, description and commentary on item/skill combinations.
Item accessibility list
(Primary Weapons=My definition of weapons that offer Critical Strike, for that matter. There are more items of this type, characterized by not being able to hold more then one at the same time, which don't offer a critical hit chance, but for the purpose of this guide they are not important and therefore not mentioned.)
Ammunition Modifiers can be picked by all classes, except Flamethrower.
Rifleman, Navy Corpsman, MQ-3 Predator, Force Recon, Infantry Unit Leader, Forward Observer and Assaultman can pick all Primary Weapons.
Combat Engineer and Flamethrower can pick none of these.
Machinegunner can pick the M240G only.
Designated Marksman can pick the Sam-R only.
Delta Operator can pick Sam-R and M-29 Assault Rifle.
Every class can pick special items in the form of Rusty Mining Picks for all and Dao limited to CE Hero/unit and male civilians.
Items
U238-Ammunition
Offer a 20% chance to stun targets for 0,2 seconds, 10 damage bonus, 35 on Designated Marksman. Worth to have on a Machinegunner as first item to provide permastun in combination with Suppressive Fire, not really useful for other classes.
Armour Piercing Ammunition
Offer a 20% chance to critically hit targets for 200% damage, 10 damage bonus, 35 on Designated Marksman. You can't really go wrong with this type of ammunition on any class, except CE. Especially Mos with long range (DM, DO) or high attackspeed and good attack type (MG) can make good use of this item.
TX-1 Ammunition
40 damage bonus, 120 on Designated Marksman. Poisons enemies. This type of ammunition does not offer a crit or bash chance, it "just" adds damage. Which is not bad at all, you can pick it even later on in the game, since it does not interfere with other Crits/bashes. By raising base damage, it also effects the damage done by critical strikes.
Squad Advanced Marksman Rifle
Offers a 20% chance to critically hit targets for 200% damage, 8 damage bonus, 12 on Force Recon, 35 on Delta Operator, 100 on Designated Marksman and grants 300 Bonus Sight. This is the designated weapon for the designated Marksman it is most efficient on him and furthermore the only Primary Weapon that he can take. So if you find this weapon and are not the DM, then by all means hand it to him, assuming there is one in the game. Second best choice is the DO, after that it does not really matter who wields this weapon.
M240G
Offers a 20% chance to critically hit targets for 200% damage, 10 damage bonus and 30% increased attack speed. Similar to the Sam-R this weapon does its best on a Machinegunner, but there are some other classes like Rifleman/NC/IUL who can make good use of this weapon, if there should be no MG present.
M-29 Assault Rifle
Offers a 20% chance to critically hit targets for 200% damage, 15 damage bonus. Allows to fire Grenades with a damage of 800 starting with a stack of 5 grenades, similar to the M320 Grenade Launcher. This is a great weapon combining passive damage boosts with an active instant damage option. It is especially useful to have as DO, because he does not have Colt or Deagle and his own grenade is not so strong, as it only deals physical damage. Furthermore Critical Strike on long range classes helps to neutralize potential threats earlier on.
Rusty Mining Pick
Offers a 10% chance to stun targets, 3 damage bonus. Additional information extracted from game files: 5 bonus damage when stun triggers, stun lasts 0,2 seconds.
This item might be worth having on a Machinegunner to enhance overall stun chances, but bear in mind that this item is very heavy and can never be dropped.
Skills
Resistance, NC only
Offers a 5% chance to stun targets for 0,5 seconds and deal an additional 25 damage. Nice effect on stun, but it triggers rarely, due to the low chance. If you should happen to pick up items that grant critical Strike before then do a short dropdown to push their trigger ranking. Dealing more damage is better then stunning an enemy.
Specialized Rifle Training, DO only
Offers an astonishing 80 % chance to stun targets for 0,33 seconds and deal an additional 25 damage. This inbuilt passive skill allows to stun single enemies repeatedly. It is not as effective as a MG with U2 /Supressive Fire, but still useful to slow down bosses or other A-Class Zulus. It is perfectly fine to use items that offer critical strike as DO, since you can still stun your enemies with a chance of 80% in case the crit won't trigger.
(Mini Snipers, have this skill, too, but 1. you most likely need to be dead to have the chance of getting one and 2. you shouldn't be worried about frontloading minies with such items anyway)
Combos
To put it nice and simple, there aren't that many variations you can choose from when you want an efficient build. Usually you will pick up AP, one of the Primary Weapons available to your character and then start levelling critical strike, after the Hades Wave .It does not matter if you pick AP or the Primary Weapon first, since they both offer the same chance and damage multiplier. The other option as MG would be to pick up U2 and possibly the Rusty Mining Pick instead of AP, followed by M240G and last but not least the Critical strike skill. This way you ensure, that your high damage crit will trigger most often, then the weaker crit and, if that should fail too, then there is still the chance of a stun.
Since item drops are complety random, you might end up with only having one or no desired item at all. It is up to your personal judgement, to skip items and level critical strike, hope for your neighboorhood FR/Pred to bring them or go searching for them by yourself.
Later on you can safely exchange an AP for a TX-1; this is especially useful for DM and MG, with maximized critical strike, 480 damage bonus for the DM (even greater damage per clip) and 240 for the MG on a crit solely from TX-1 (pure rampage).
To complement this guide, a screenshot from past times to show the damage output of a fully geared up DM. And this is not even the highest damage possible.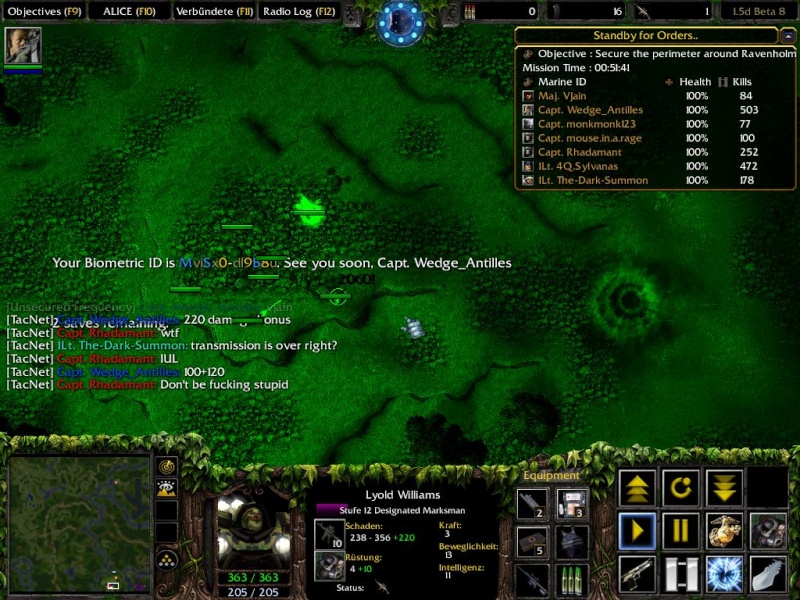 Key List
DM=Designated Marksman
DO=Delta Operator
CE=Combat Engineer
MG=Machinegunner
NC=Navy Corpsman
IUL=Infantry Unit Leader
FR=Force Recon